Laser cutting technology is applied for the first stage of a motor design, when the motor designer want to make several piece of stator rotor to build the motor prototype. After the motor prototype testing goes well, motor designer maybe turn to the tooling for mass production. Compare to the tooling investing is quite a large amount, laser cutting has its own advantage, it could manufacture several pieces of stator rotor without investing any tooling in the first. For some stator rotor special design, when the stamping tooling is not suitable for manufacturing, while laser cutting may be a good option to start. Imcore offers high quality and customized solution to fulfill your laser cutting stator rotor prototype needs. Small order of laser cutting metal work is welcomed. The Material thickness available from our factory is 0.2mm, 0.35mm and 0.5mm. We will work with your company to develop manufacturing and stocking programs that assure your product is delivered on time.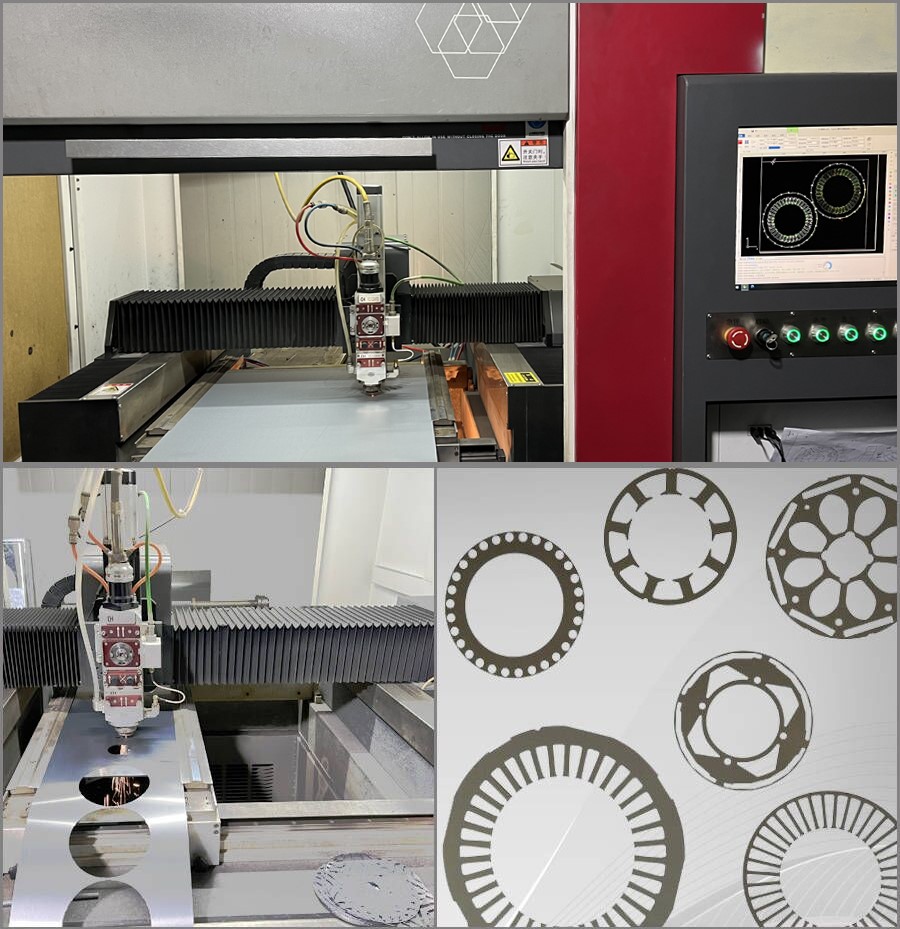 Welding
Welding is major technology for assembly the stator rotor lamination. As a 20 years experienced factory, we have comprehensive capabilities to offer the best quality welding service according to your technical request. Our welding service including
1. Argon-arc welding TIG.
2.Laser welding.
3.Robotic Laser Welding.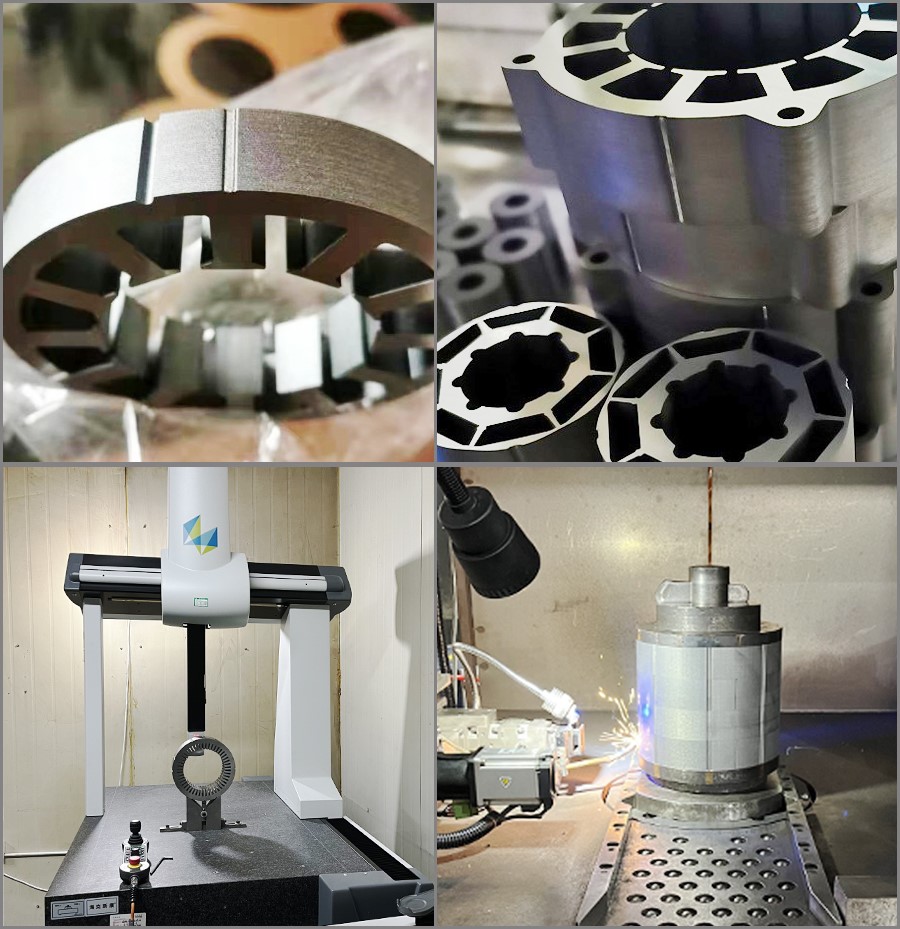 Riveting
Riveting is another option for assembly the stator rotor lamination when the welding method is not an suitable option for manufacturing.Riveting may solve the problem when the welding is not allowed. The designer could decide the size, shape , and postion of the riveting by themselves. Normallt the rivet size is Φ3mm, while we could also choose the rivets size according to customer's own request if necessary. Sometimes we could also suggest the rivet postion according to our knowledge and experience for our clients. we will always try to provide a wonderful and satisfied products and service for our customer.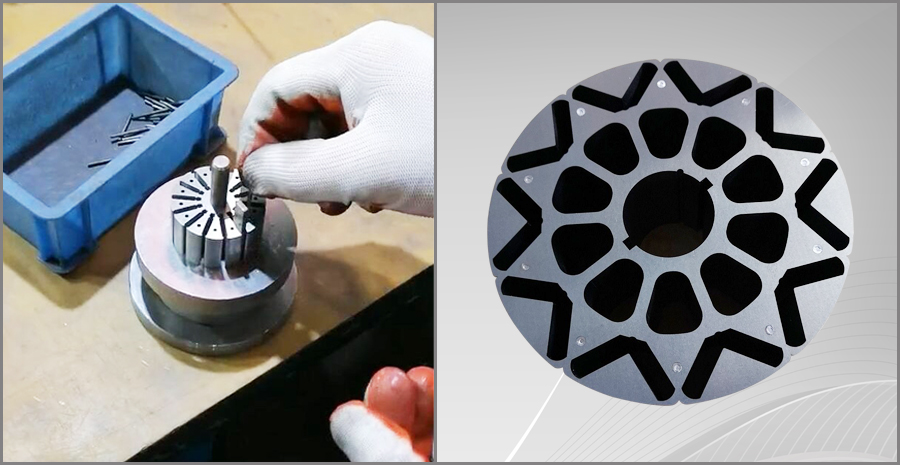 Interlock
Interlock is a high efficent assembly method for stator rotor suitable for mass production. It is the best way to save the cost of stator rotor. While Interlock normally could be achieved by progressive stamping die on high speed stamping machine. High efficent and stable quality could be guaranteed by this way.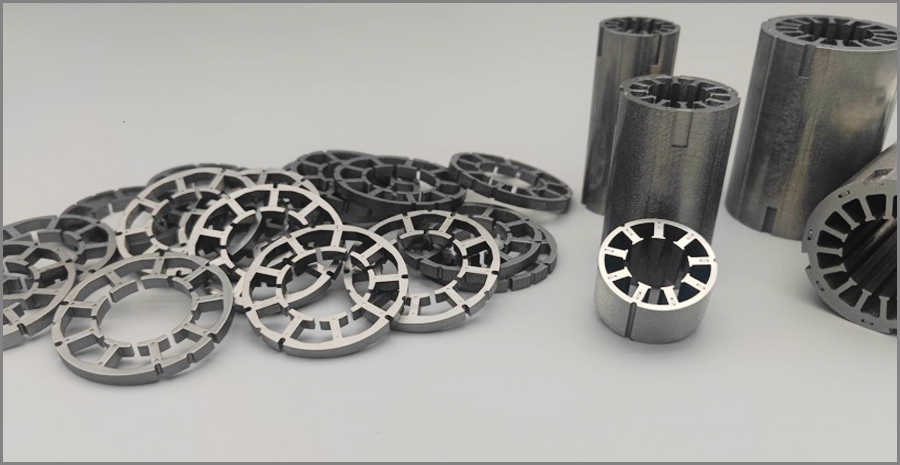 Bonding varnish
Bonding varnish is a kind of self-adhesive technology. The stator rotor adopts the a method of bonding pieces together to form a solid unit. These pieces are self-adhesive to fix a laminations. The adhensive fore is greatly improved than other methods. Many Micro stator rotor design is only suitable for this method. The bonding varnish method will make the iron core loss smaller and improve the efficency of the motor eventually.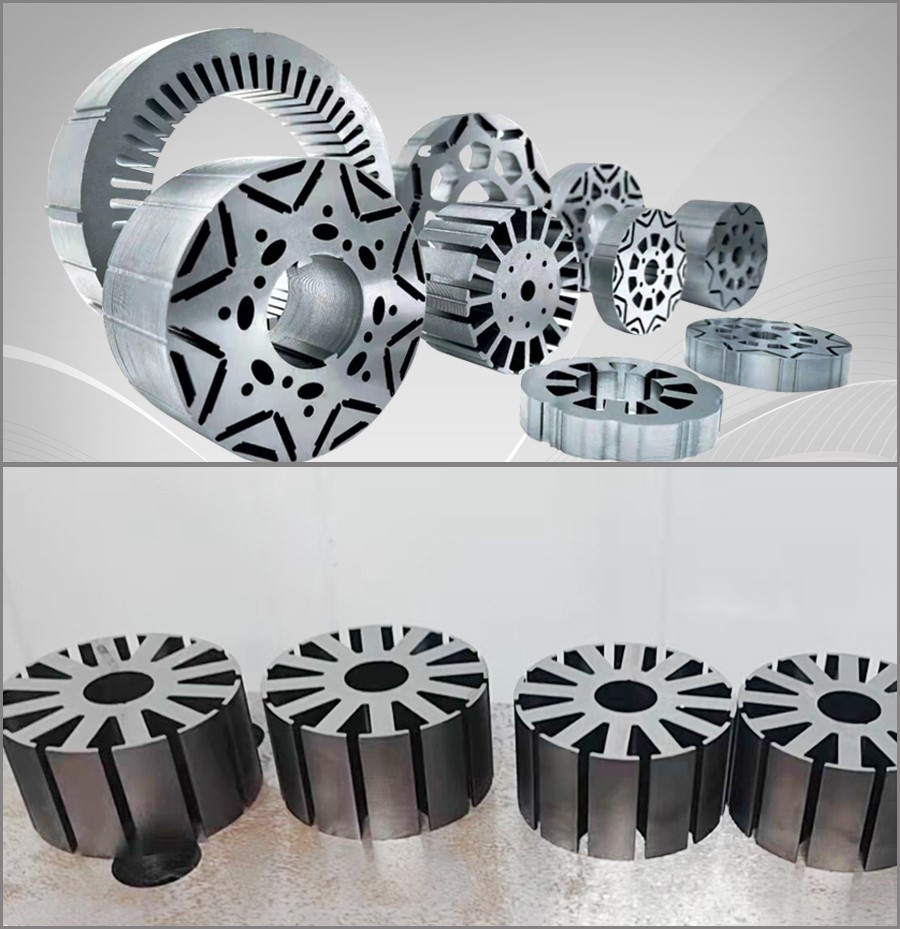 Stator Rotor

Compound Punching Die.
Compound punching die is semi-automatic punching mould, It is particularly suitable for the small batch of production. For example,hundreds and thousands of piece could be extramlly suitable for compound stamping die. For its tooling cost is much less compare with progressive stamping die. we could offer high precise of stator rotor manufactured by compound stamping die. The quality of stator rotor produced by compound stamping die from us could meet your high tolerance request.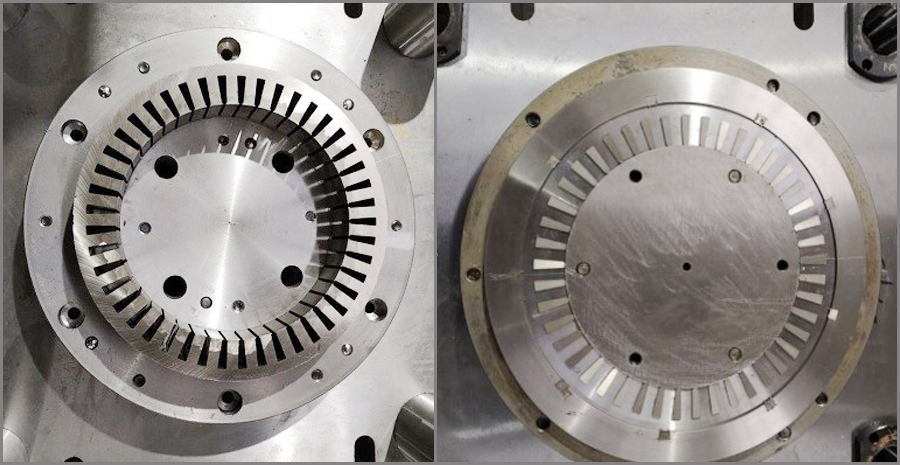 Stator Rotor Progressive Stamping Die.
Stator rotor progressive stamping die is a fully automatically stamping die for large scale of mass production. A very low product cost could be meet by this way of manufacturing. High quality and high efficicent could be achieved by progressive stamping die. The automatically skewed stator rotor manufacturing could be also designed on progressive stamping die. Progressive stamping normally has a very long life time to gurantee the mass production task.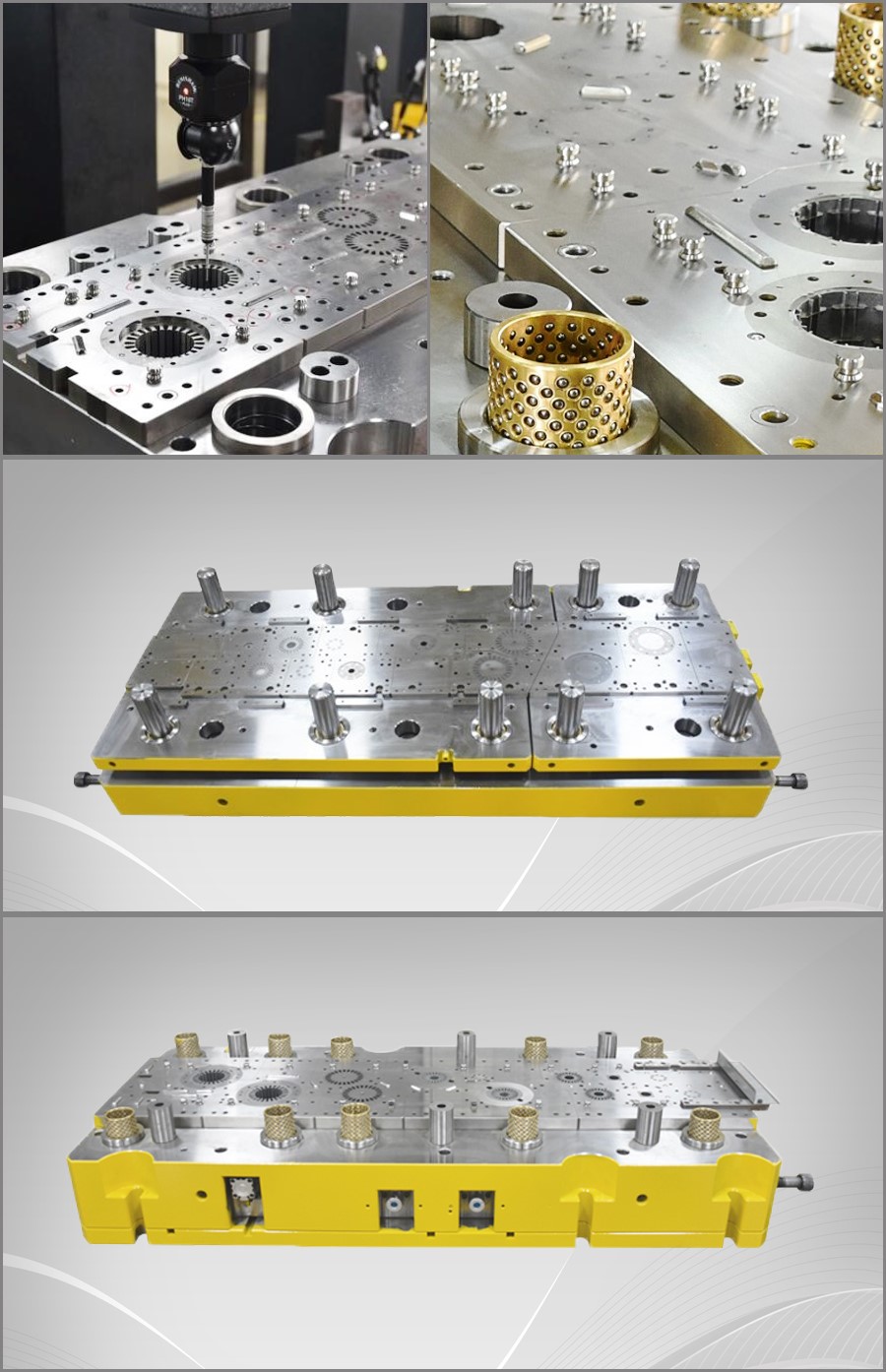 Rotor Aluminum Casting and CNC Machining.
Rotor aluminum casting and machining service could be provide for you for the induction motor. most of the induction motor will request the rotor to be casted by the pure aluminum. we have lots of knowledge and experience for the manufacturing of the aluminum casting mould. After the rotor casted, we could also machining the aluminum rotor for you.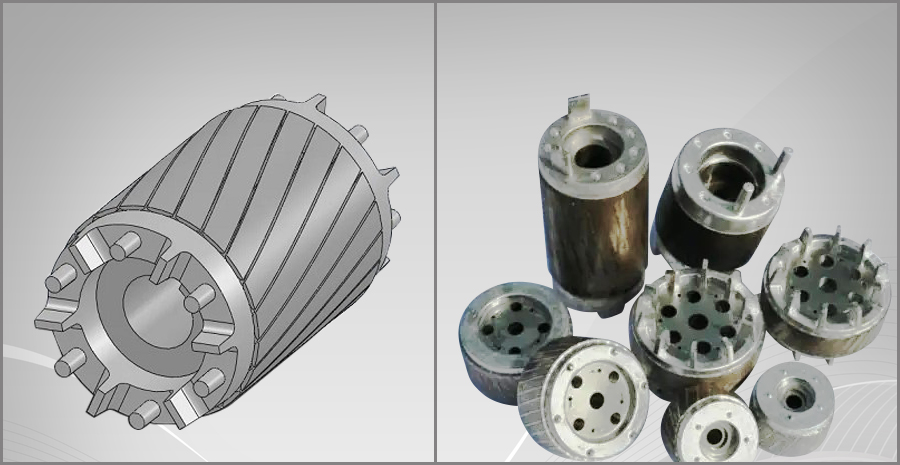 Winding and Magnet Assembly
Imcore could offer high quality winding service for our customer according to our clients' own technical drawings for BLDC motor, induction motor, servo motor etc. we could manufacture the wound stator by winding machine or manually, all by customer request. Meanwhile, we could supply the NdFeB magnets and glue the magnet inside the rotor according to your request.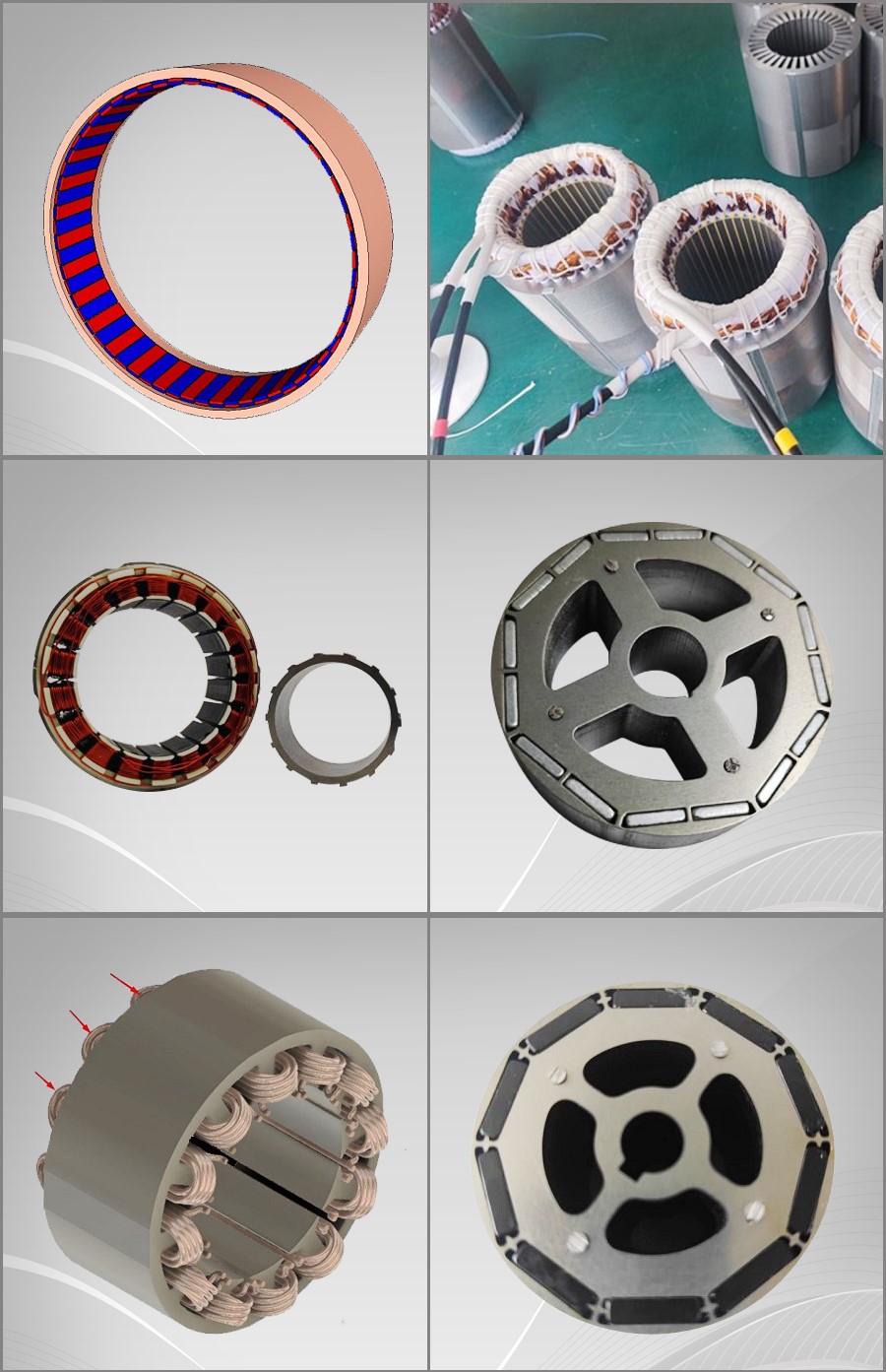 Epoxy Coating and Insulation Sheet
Imcore could be able to provide the epoxy coating for stator. Thickness of the coating could be within 0.3mm thickenss. Temperature resistance for the epoxy coating is 180 Degrees Celsius. Meanwhile we could provide the stamped insulation sheet at the end of stator for 0.1mm thickness, material could PET or Polyimide.